Libraries and Multimedia Centre
Primary School Library
Secondary School Library
Primary School Library



Located on the lower floor, the Primary School Library provides a quality service to students in Playgroup to Year 6, their parents, and the entire ARIS community. It caters to those who want to borrow books in English, French, or the ARIS community's other home languages, such as Hindi, Mandarin, Arabic, and Spanish.
The Library is open daily from 07.30 until 16.00. Parents are encouraged to suggest classic titles in English, Arabic or other languages, to help the librarians maintain and expand the stocks of books. Titles with multicultural perspectives are especially welcome.
There are approximately 10,000 books in the Primary School Library. They are largely in English, which is ARIS's language of instruction, but the stocks include many titles in French and Arabic, reflecting the home languages of the student population. Librarians believe that reading strategies and skills in a home language will transfer to the students' reading strategies and skills in English. The Primary School Library's range of reading includes the Oxford Reading Tree, Collins Big Cat and many more. The publishers include Ginn, Heinemann, Oxford International, Nelson International, Scholastic, Jolly Phonics, Schofield and Sims, Rising Stars, Letts, CGP and many more.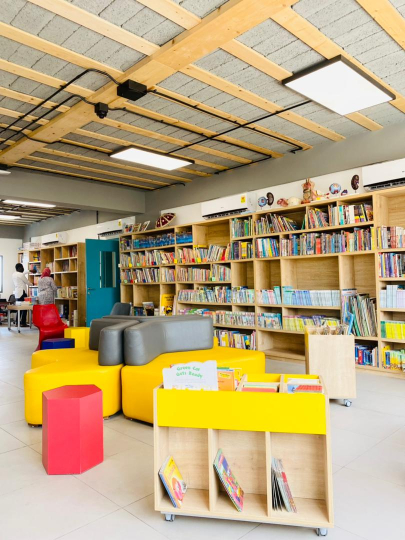 Secondary School Library
The ARIS student, or for that matter, a member of staff, may stand looking in one direction. Or rotate slowly through 360° until she has seen the horizon all around. And wonder how to make sense of what she sees and hears and feels. And she may wonder how her parents and her great grandparents made sense of it, too, long before computers were invented. And she may wonder how the school library can illuminate and guide her future.
The world's most powerful computer is capable of performing 33.86 quadrillion floating point operations — or FLOPS — in a single second. That's very impressive. But the Tianhe-2 has no feelings; it has no curiosity; it has no imagination, no humanity. So in serving the needs of our ARIS girl child, the Secondary School Library/Multimedia Centre must function in more ways than a sophisticated computer. It cannot simply be a repository of, or means of accessing, data, information, and knowledge. It must of course at least do that, but in addition, the student should feel good to be in that library space, it should help her learn how to find things out, it should be a stimulating place where her curiosity can bear fruit, and it should be a gymnasium for her imagination.
Borges imagined that Paradise would be a kind of library. Perhaps so, but to maintain its utility and relevance in the digital age, a library must also be capable of renewing and transforming itself. The ARIS Board of Trustees is investing massively in the Secondary School Library/Multimedia Centre, enabling the librarians to acquire state of the art software systems, portable devices in the shape of e-readers and tablets, DT books, journals and subscriptions to periodicals. The new facility will fully support the implementation of the International Baccalaureate Diploma and Career-related Programmes and the concomitant increase in enrolment of students.
"The library is the temple of learning, and learning has liberated more people than all the wars in history."
Carl T. Rowan