Primary School Campus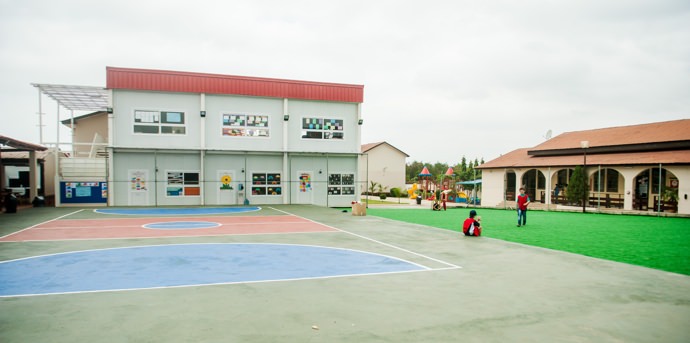 The Primary School campus is situated on an open terrain adjacent to Spintex Road and the Tema Motorway. To the west is the north-south route of Liberation Road, which leads (via the renowned 37 Military Hospital) to Independence Avenue, the seat of the Ghanaian Presidency at Flagstaff House, and ends in downtown Accra. To the south of the campus is Kotoka International Airport (KIA), just a brief taxi ride away. The arrival of passenger planes from all over the world is not a disturbance to studious concentration, rather it is a perpetual reminder of people and places far distant.
There are six main structures on campus. The smaller building, fronting the entrance gate on the northern perimeter, houses the Administration and facilities for the Foundation Stage learners. These facilities include classrooms, restrooms, and a baby-changing room. To the rear of the main Administration is an additional block, consisting of the Admissions and Finance Office, Store Room, and teacher's lounge.
The second, larger building is L-shaped, of two stories, and includes the Heads offices, and Primary School classrooms. In this building, there are altogether 22 rooms and four restrooms (two on each floor). On each side of the building, there is a wide staircase from the ground floor to the first.
The third new structure is 2 stories high, with a large Multipurpose Hall on the ground floor, 3 rooms on the first floor (2 classrooms and an interactive Lego Robotics room).
Other onsite facilities include the Art room, Music Room, Special Education Needs Classroom, a Library, Learning Support and Modern Foreign Language classrooms, and a bustling Information and Communication Technology (ICT) Lab. A standby generator is not infrequently in demand.

At the center of the Primary School campus is a spacious lawn, and a garden area that includes outdoor playing equipment. Left of the entrance gate are a new multi-purpose court and two stories building housing 6 classrooms. The newly renovated canteen and assembly area welcome gatherings under the shade of a canopy, and space is equipped with benches, tables, and chairs for students, staff and parents to rest, chat and take lunch. On one side is a canteen offering food, snacks, and refreshing drinks, the other side has a built-in stage with a full sound system.
It is important to note that the current location of the Primary School is not permanent. A new, two-hectare campus for ARIS in East Legon is already in use for the Secondary School, which began the 2014-15 academic year in situ. Major expansion plans are underway. Please refer to the following Secondary School Campus section for further details.
Click here to find school on the map