Science Labs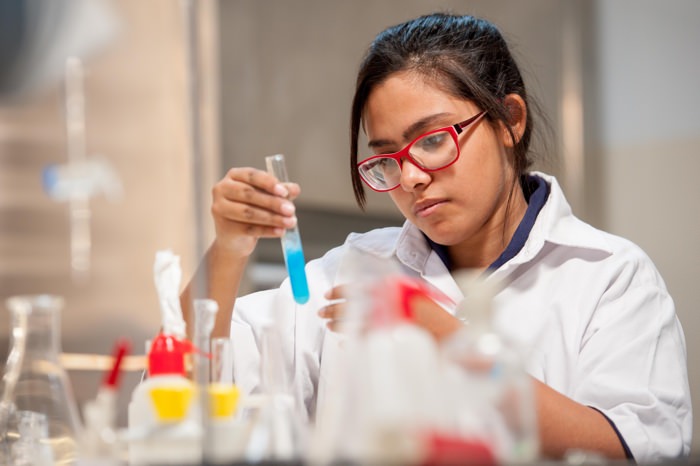 The Science Labs at ARIS accommodate a wide range of hands-on, practical courses in the natural and experimental sciences appropriate to Years 7, 8 and 9. For Years 9 and 10 there are the specialist IGCSE (Triple Science) courses in Biology, Chemistry and Physics and the non-specialist, double award in Coordinated Science.
Subsequently, the IB Diploma Programme offers a progression from the IGCSE courses in the shape of Biology, Chemistry and Physics at Higher or Standard Level. Typically a student's choices pair Biology and Chemistry, or Chemistry and Physics. These are the best ways of preparing for university study in science-related fields.
Unique to the IB Diploma Programme, however, is the transdisciplinary Environmental Systems and Societies (ESS) course. The ESS course meets the requirements of both Groups 3 and 4 in the DP curriculum. Here the human impact of scientific discoveries is explored, including the impact on individuals and on societies in the global context. The student's thought processes generate links across the traditional disciplines, links which perhaps more accurately reflect the real world in which we live, rather than one conventionally compartmentalised. The ESS student is required to become acquainted with, and use, the research methodologies germane to the human and experimental sciences, and to derive an informed understanding from his or her research findings.
The student who dreams, for example, of becoming a scientist, an architect, an engineer, a doctor, pharmacist or other health professional, will find that the Science Lab facilities in ARIS hold the right combination of courses to unlock the doors of discovery―the young scientist can experience the wonder and excitement of the traditional disciplines, and perhaps catch a glimpse of inchoate disciplines of the future. Every illustrious scientist, whether discoverer or inventor, began in school.
In the modern day, the starting point of our young student's dreams is the school Science Lab. Currently at ARIS there are just three, one each for Biology, Chemistry and Physics respectively. The spaces available, the furniture, fixtures and fittings, and the state of the art equipment together exist to facilitate our student's embarkation, and to provide the stimulus, the motivation and the practical necessities for the journey. A journey which will be exciting, hands-on but safe.
The Science Department staff at ARIS, teachers and technicians alike, are individually and collectively dedicated to their professional objectives, highly qualified and experienced. They are deeply committed to the academic development and success of each student. And perhaps one day they may be proud of having been the teacher of that genius!