ARIS Moves to Virtual Learning due to the Covid-19 Arrival in Ghana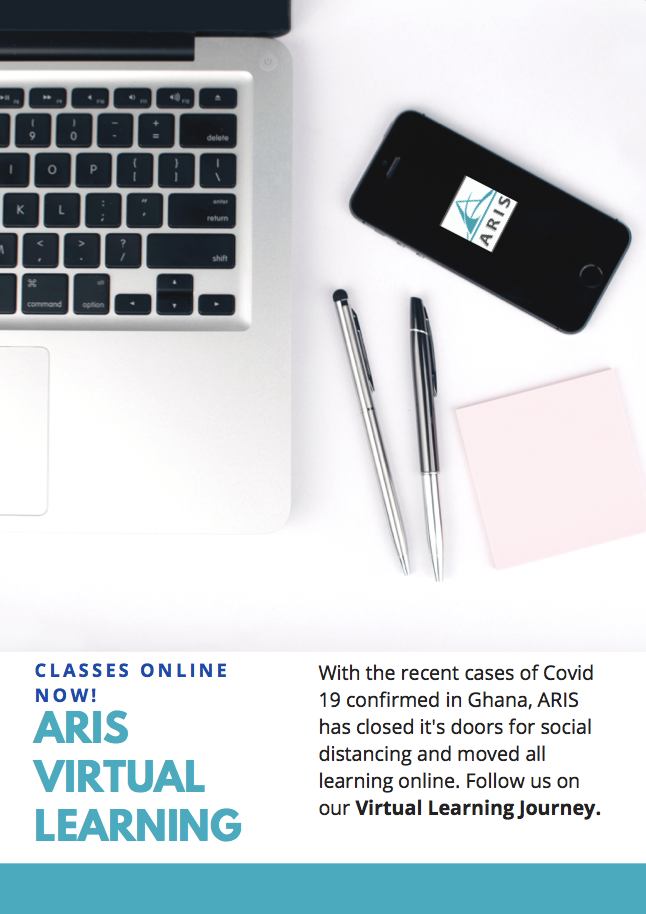 Dear ARIS Staff, Parents and Students,
Yesterday Ghana confirmed the first 2 cases of Covid 19. As we informed you in our previous communications we are escalating our response level. The ARIS Board announced this morning that school will be closed for the next 2 weeks. We will start the Virtual Learning Platform on Monday 16 March 2020 and continue through the week to Friday 20 March 2020.
Mid Semester break will take place starting Monday 23-27 March 2020 and we will not be online at that time. We will continue to update our families as we monitor the situation in Ghana and the world, and keep you up to date on the local and international health authorities and their recommendations.
ARIS Emergency Response Levels:
Our emergency plan level 3 is to create social distance, in keeping with current WHO, CDC, and local health authority recommendations. This closure comes out of an abundance of precaution and we want all families to stay safe and continue to follow the hygiene measures that we have all put in place.
Level 1: Increased hygiene, disinfecting and raise awareness
Level 2: Cancel Visitors and Guests, Field Trips, Matches off-campus and visiting teams
Level 3: School Closure, create social distancing and move to Virtual Learning Platform
ARIS Virtual Learning Platform:
The goal of the Virtual Learning Platform is to ensure learning continues during the closure. We recognize that the Virtual Learning Platform will pose challenges for families and we will do everything we can to make it as smooth and positive as possible.
Teachers will share class-specific information including the schedule of when they are available online and when they will conduct virtual group conversations with the class. Teachers and the Administration will be communicating regularly with families and will be available to support students and parents during this time.
More information will follow after our team meeting this afternoon.
Please stay safe, and strong, this too shall pass,
Dayna