Dania Sadek
Head of Primary (SMT)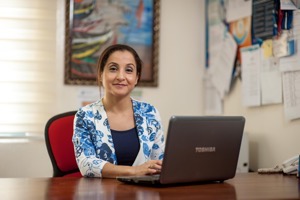 Dania Sadek holds a Bachelor of Science Degree (Honours) in Biology from the Lebanese American University. Despite the high achievement she attained to enable her entry into the medical school, she diverted her career into education. She began her teaching career as a Biology Teacher at the Ghana Lebanon Islamic Senior Secondary School in January, 2001. Then in September, 2006 Dania joined ARIS as a Year 3 teacher, then in the years to follow, she taught in Years 4, 5 and 6. Dania also taught Science in Years 7, 8 and 9 innovating her pupils to develop a passion for biology, from observing their cheek cells under a microscope to classifying the animals, like the hen they had brought from home.

Having acquired an in depth understanding of the strategies and methodologies of the British National Curriculum, Dania was made the Literacy Coordinator, then the Assessment Coordinator till she eventually held the post of Key Stage two coordinator in 2011. Throughout her years at ARIS, Dania continued to participate in CIE workshops at the British Council, and online. In addition, she is currently undergoing IB professional development trainings in-school, online and abroad
In September 2014, she was made the Head of Primary, and Acting PYP coordinator.