Mr. Mohamed Abdul-Rahim
DP Economics Facilitator (Secondary)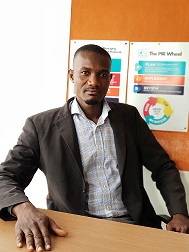 Abdul Rahim Mohammed
Mr. Abdul-Rahim Mohammed holds an International Joint-Master of Science degree in Development Planning and Management from the Kwame Nkrumah University of Science and Technology in Kumasi, after having pursued a Bachelor of Arts Degree in Integrated Development Studies at University for Development Studies at Tamale, Ghana.
With over eleven years of combined and concurrent experiences as a classroom and learning facilitator in Economics and other Socio-Political courses, he has guided students' learning processes from basic level through Secondary to the tertiary levels.
Mr. Mohammed believes in promoting result-oriented and self- motivated learning through research, analysis, and experience among his students as his core philosophy of teaching.
Most of his leisure is spent on reading internet resources of educational, social-political and economic relevance and listening to topical panel discussions that border on local and global development issues both on TV/radio alike.