Flight #7 has Landed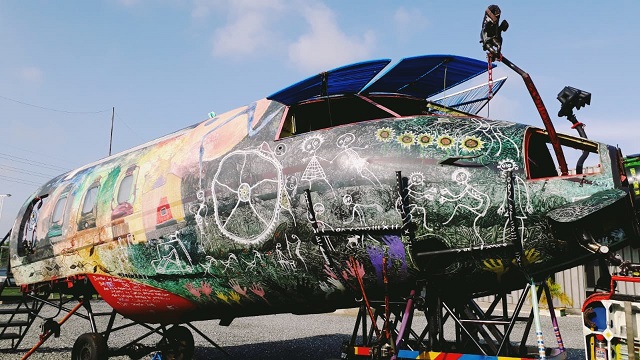 Flight #7 has landed in our ARIS Secondary Campus, and it will be a part of one of the biggest projects that we will take on, under the initiative of ARIS Cares for our ARIS 15th Anniversary!
Flight #7 is a recycled airplane art piece, and one of its kind! It started from a mysterious airplane which led to the Contemporary Artist and Sculptor, Nana Anoff to intervene and preserve the vintage Challenger 600.
Every single detail, design, installation, drawing in every corner of the airplane exteriors and interiors is entirely recycled and bespoke. One would be awestruck to see such an innovative and creative art piece, and now it is being hosted in our Secondary Campus, right beside our Recycled Container building!
The artist, Nana Anoff, in collaboration with Ms. Rania Odaymat (Art Curator and Jewelry Artist) and The Beyond Collective have facilitated the moving of Flight #7 to our campus, where it will be for the next couple of months.
The art piece has come as an enormous opportunity to take on one of our most ambitious projects yet! We will host Flight #7 for a few months, and leverage the opportunity to pilot a series of interesting ARIS Cares Recycled Art Workshops. Schools from around Accra will be invited to attend these workshops.
After it's stay at ARIS Secondary, the Flight #7 will be shifted to any other international schools to keep spreading the awareness of Recycled Art and it enormity of opportunities! We would love to collaborate first with our friends in Tema International School!
Like so, the Plane will be moving to different parts of Ghana to mobilize a Youth Awareness Movement piloted by ARIS! Let's continue to Inspire, Empower and Transform our ARIS and surrounding Communities!
A HUGE thank you to Mr. Nana Anoff, Ms. Rania Odaymat and the Beyond Collective for making this possible!