University and Career Counselling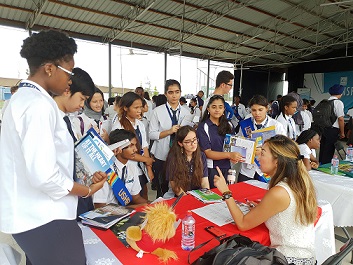 The ARIS University and Career Guidance Counselling Programme is a comprehensive, developmental program designed to assist students in making and implementing informed educational and occupational choices. This programme seeks to provide developmental and systematic support to each student to ensure their academic and career development and achievement. Our counselor is professional school advocate who provide proactive and preventative support to maximize student potential.
The programmes and interventions offered to students are delivered collaboratively with school staff, families and members of the community to offer seamless transitions to each student's next steps.
The ultimate goal of our programmes is that each student from ARIS will transition smoothly to the next level of education with a clear sense of direction as to which career to pursue, which subjects to study and eventually graduate with a personal, academic and career-related skills and knowledge to make responsible decisions and to positively contribute to society.
The department serves as a "one-stop shop" for all its students by providing them with these services:
- University and Career selection processes
- Applications for admissions and scholarships
- External examinations (ACT/SAT/IELTS/TOEFL)
- University visits and engagements
- Career Fairs
- Summer enrichment programmes
- Exchange programmes
- Internships
- University tours
- Guest speakers and lectures
ARIS' University and Career Department use BridgeU, a world-class university & career guidance platform for global secondary schools. BridgeU provides credible college and career guidance software which partners with higher education institutions to provide students with college planning and career assessment tools. BridgeU's platform allows access to worldwide college and scholarship research, career assessments and personality tests. BridgeU also enables students to connect high school activities to career aspirations once they complete their education. The platform also provides ongoing support to counselors to track the progress of individual students and collaborate with students and families while creating reports on their entire student population.
Alumni, where are they now?
ARIS has substantially grown its international reach and presence through university acceptances. Our students are internationally minded global citizens dotted in different parts of the world, achieving their dreams and aspirations.
Now, as we track all the universities that ARIS Alumni are attending/accepted to, we realize the global presence of it. Here's the list –
| | |
| --- | --- |
| UNIVERSITY | DESTINATION |
| SP Jain School of Global Management | Australia, UAE, India, Singapore |
| KU Leuven | Belgium |
| KU Leuven | Belgium |
| Vesalius College | Belgium |
| Brock University | Canada |
| Carleton University | Canada |
| Humber College | Canada |
| International College of Manitoba | Canada |
| Mount Allison University | Canada |
| Simon Fraser University | Canada |
| University of Calgary | Canada |
| York University | Canada |
| Eastern Mediterranean University | Cyprus |
| Eastern Mediterranean University | Cyprus |
| Middlesex University | Dubai |
| Mansoura University | Egypt |
| University of Georgia | Georgia |
| Eberhard Karls University of Tübingen | Germany |
| University of Europe | Germany |
| Lancaster University | Ghana |
| University of Ghana | Ghana |
| Webster University, Ghana | Ghana |
| University of Pavia | Italy |
| Beirut American University | Lebanon |
| Lebanese American University | Lebanon |
| Lebanese International University | Lebanon |
| Notre Dame University (NDU) | Lebanon |
| University of Balamand | Lebanon |
| Monash University | Malaysia |
| University of Twente | Netherland |
| Leiden University | Netherlands |
| University of Groningen | Netherlands |
| Georgetown University Qatar | Qatar |
| EU Business School | Spain |
| IA Barcelona | Spain |
| IE University | Spain |
| IED- Barcelona | Spain |
| Ceaser Ritz College | Switzerland |
| Bahcesehir University | Turkey |
| Isik University | Turkey |
| Istanbul Sehir University | Turkey |
| Middle East Technical University | Turkey |
| New York University Abu Dhabi | UAE |
| Anglia Ruskin University | UK |
| Coventry University | UK |
| Nottingham Trent University | UK |
| University of Kent | UK |
| University of Leeds | UK |
| University of Manchester | UK |
| University of Plymouth | UK |
| University of the West of England | UK |
| UWE Bristol | UK |
| Berkeley College | USA |
| George Washington University | USA |
| Iowa State university | USA |
| Long Island University | USA |
| Macalester University | USA |
| Michigan State University | USA |
| Purdue University | USA |
| Rutgers University | USA |
| Savannah College of Arts and Design (SCAD) | USA |
| The New school | USA |
| University of Houston | USA |
| University of Massachusetts Dartmouth | USA |